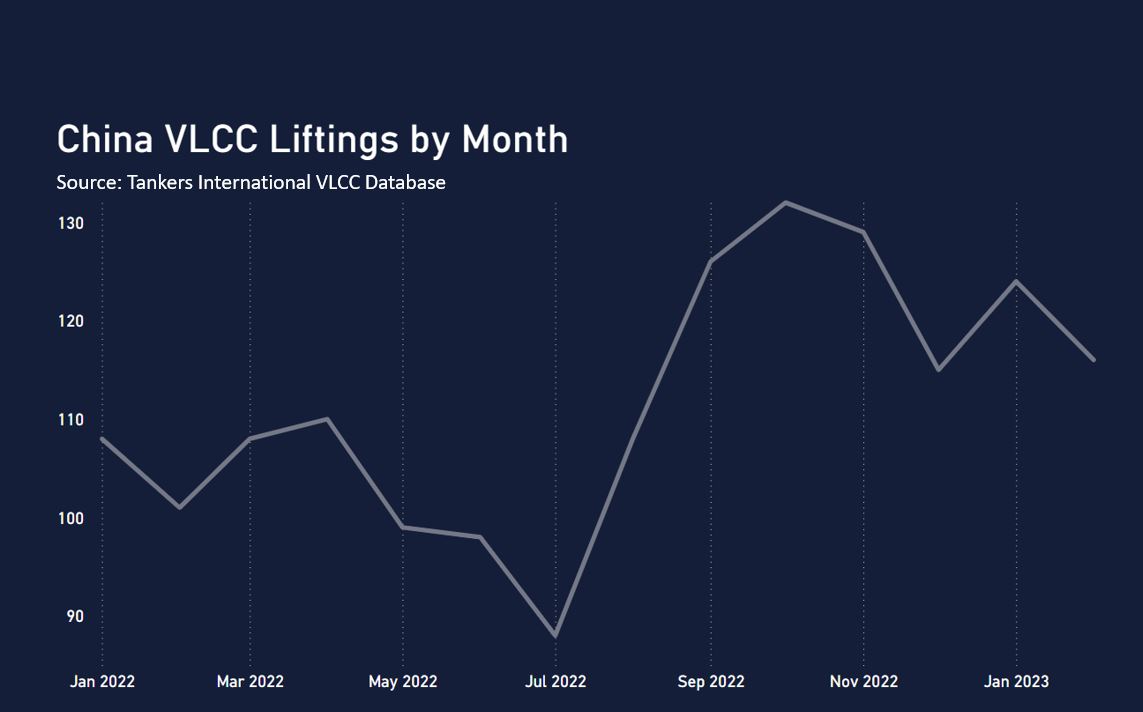 China is a key driver of the VLCC market. The sheer scale of the country's need for oil and an infrastructure system built to accommodate large crude oil tankers means that shipping crude oil in the largest possible parcel sizes ensures economies of scale and a more cost-efficient transportation solution.
On the flip side, this also means that when the Chinese economy and the country's demand for oil reduces, we see an immediate effect in the VLCC market. This demand slowdown was, in effect, what happened during the first half of 2022. While the smaller tanker segments benefitted from freight market shocks early in the year on the back of the conflict between Russia and Ukraine, in fact, the conflict did not directly impact the VLCC segment as this large vessel group rarely is involved in loading Russian oil.
In the early months of 2022 the VLCC market was significantly impacted by declining oil demand in China. The country was struggling with a resurgence in Covid-19 infections that caused new lockdowns and more travel restrictions. In addition, a slowdown in manufacturing activity caused industrial production decline, which reduced oil demand even further.
As a result of demand slowing and lockdowns impacting its industry, throughput in Chinese refineries collapsed to two-year lows as state-owned and integrated independent refineries ran at nearly 75% of capacity in April, while some private plants operated at just 50%, according to Platts. Intelligence from data provider Kpler shows that the reduction in refinery throughput boosted inventories in China which remained elevated through May, June and July before declining into the autumn.
This decline in refinery activity and resulting inventory build-up slowed down the country's crude oil imports. At the same time, the price of oil was rising which did nothing to encourage more buying. As a result, we saw Chinese demand for VLCC tonnage decline. While we counted 107 monthly liftings destined for China in 2021 and a similar count in the first four months of 2022, this number dropped to an average of just 95 liftings in May, June and July.
In late summer, China began to re-emerge from its Covid restrictions. Increased industrial activity and greater freedom of movement both added to a demand surge in the second half of the year. This growth was further supported by new product export quotas that required refiners to demand increased volumes of crude oil. With oil demand improving and refinery runs increasing, we noted a significant impact on VLCC cargoes booked for discharge in China. In fact, we counted as many as 132 liftings in October, with an average of 125 monthly liftings in the final quarter of the year.
Looking back at historical data, we find an almost perfect correlation between both Chinese oil demand and VLCC liftings and refinery runs and VLCC liftings. It is, therefore, reasonable to expect this trend to continue. We can look at projections for oil demand and refinery runs in China to understand what we may expect going forward regarding VLCC activity bound for the country.
The latest estimates for China's oil demand in 2023 peg growth levels at close to 6% on the back of the continued easing of Covid measures and economic recovery. We have seen a recent surge in infection rates in China and a temporary decline in demand. Yet, expectations are that this will be managed, and that demand will resume its growth trajectory from the second quarter. Likewise, China's crude runs will initially be affected by the weaker demand picture, but this is also expected to reverse. We are therefore optimistic that China will continue to provide strong support to the VLCC market throughout the year.
We already count 120 global VLCC liftings destined for China in January and February, with approximately 60% emanating from the Arabian Gulf and the remaining from the Atlantic basin. While it is difficult to predict the exact number of liftings we will see in the VLCC space, the correlation theory indicates we can expect numbers to rise by around 5 cargoes per month compared to 2022 actuals. The great benefit to the VLCC market will come from the continuous pull of crude from the Atlantic basin, which comes with extra long tonne miles.
As one of the key drivers of the VLCC market, we continue to closely monitor China and the country's energy data. The current outlook is positive with an economy in recovery mode, rising oil demand and a refining industry that is forecast to remain strong. The current crude trade flow mix into the country already supports a healthy VLCC market, and we look forward to a year of continuous growth from the economic powerhouse that is China.